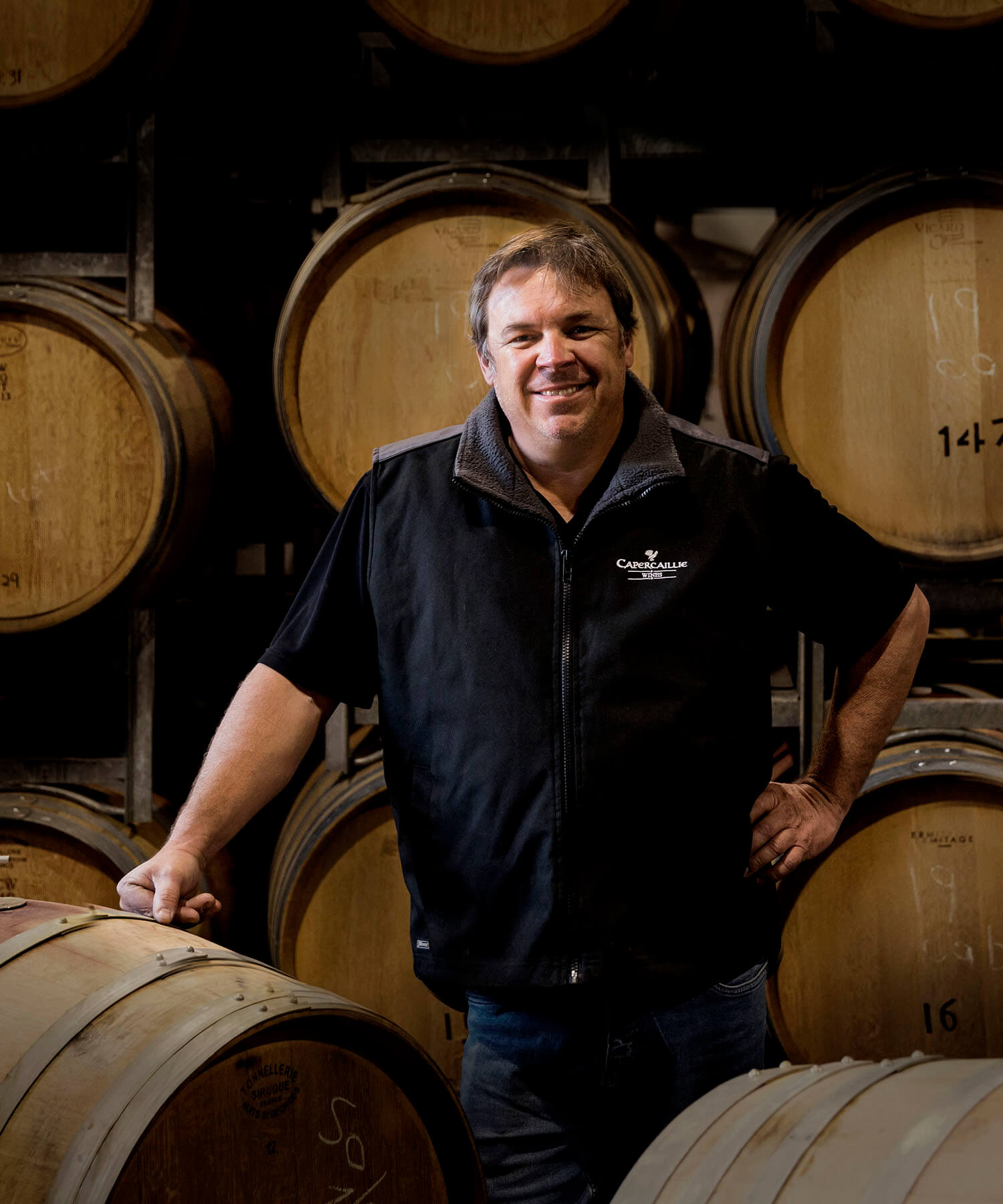 Winemaker & Vigneron
Capercaillie's vineyard manager – Lance Mikisch comes from a long line of vignerons. In fact 6 plus generations of his family have been involved in growing grapes and other produce since the 1700's in Austria before arriving in Australia in 1949.
Local lad Lance has always worked in the vineyard, gaining hands on and exclusive knowledge and experience from working alongside his Father and Grandmother. Whose fathers before them passed on the family's trade and tradition.
Lance's experience of 15 years in the Hunter Valley is of a great advantage to Capercaillie, because as he will tell you there are no two vintages alike. If you want a challenge grow grapes in the Hunter Valley, but then if you want premium quality, elegance and great balance of flavour grow grapes in the Hunter Valley.
While nurturing the grapes is serious business, Lance is always in for a joke and a laugh and is considered to be an all round nice guy! Married to Kylie and 4 young sons there is no doubt the family heritage will continue for many generations to come.
CELLAR DOOR MANAGER
Like a story out of an AA meeting 'The booze literally chose me'. Lol. I had no idea I'd be working in the wine industry until my other love 'music' led me to a gig at Lindeman's for a special Winemakers Dinner in 2005. After a great night of song and wine I was literally offered a job on the spot by Senior Venue Manager Damian Harrison. Starting as a dish pig and making coffees I ended up using my good memory and genuine love of food and wine to excel with customers and sell lots of vino!
A restructure and transfer to Rosemount Estate – the sister brand, part of Treasury Wine Estates gave me the opportunity to work with respected local chef Jimmy Bartley whom taught me the fundamentals of wine tasting and understanding good food and booze matching!
On February 1st 2012 I began my wine journey with Capercaillie Wines. As an Assistant Cellar Door Manager and Brand Ambassador I worked cellar door and traveled to many tasting events including Good Food and Wine Shows in Sydney, Adelaide and Brisbane + trips to Thailand, Hong Kong and China. With my thirst for wine knowledge I also completed WSET Level 2 and Level 3 at Sydney Wine Academy in 2013. Eventually stepping into the Cellar Door Manager role in late 2014 was a natural and rewarding progression. Making music with my all girl band 'Pretty Irresistible', playing pinball machines wherever I can find them and traveling with my husband Eddie keeps me smiling and thirsty for another glass!